A watch expressing Japan through art and fragrance.
Presenting the new "KYOTO-KIMONO" series inspired by the traditional antique kimonos. A traditional floral pattern of the "obi", which is the key piece of the Japanese clothing, was incorporated into the dial design.
Nadeshiko pattern Pink
Bellflower pattern White
Botan (Tree Peony) pattern Red
Shakuyaku (Chinese Peony) pattern Gray
Chōjū-giga Pink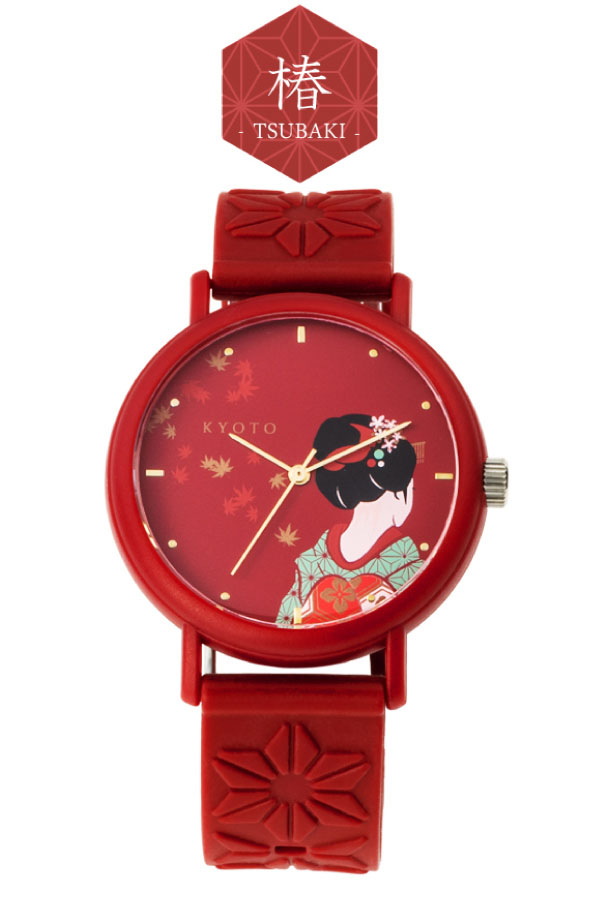 Maiko Red
Maiko Pink

The signs of spring faintly waft as if snuggling up to you.
In spring, as sakura blossoms blanket the islands of Japan from the south to the north like a delicate pink relay race, people's minds begin to fill with sakura-tinted compassion. The graceful fragrance of the blossoms lift our moods. Perhaps this is why we feel joy watching cherry blossoms dancing in the wind.
Enveloped by forest, feel the breeze in whiteness.
The scent of hinoki, a high-quality building material is well known for its natural insect repelling and relaxing qualities. Hōryū-ji, a Buddhist temple built in the Asuka period, is a famous building constructed from this wood. Japanese people with long lives have been known to enjoy hinoki's scent from 1300 years ago. Its English name is Japanese Cypress.
Modest excellence, Elegance without affectation.
Tsubaki has been known across the world as the "Japanese Rose". It is widely known for its oriental and exquisite beauty. You too can adorn this symbolic flower of the heroine that appeared in the romantic opera La traviata. In the language of flowers, Tsubaki means "modest excellence", "elegance without affectation", and "virtuous humility". You could say that the red Tsubaki is the ideal symbol of Japanese women.
The flavor of the Japanese spirit
Smell the wonderful citrus essence that have been used by Japanese people since time immemorial. It has been used in delightful Japanese cuisine. This calming fragrance was incredibility popular during the Edo period. Yuzu is the flavor of the Japanese spirit, and it continues to permeate into Japanese life to this very day.

"Nadeshiko" has several meanings in the flower language such as "pure love", "pretty"and "innocence".
This is one of the flowers representing Japan, and is used as an expression to portray a beautiful woman known as"Yamato Nadeshiko". A design that expresses the rich culture of Kyoto in a gorgeous way, creating an image of the blooming flowers during the spring season. The hemp leaf flower pattern in the background has long been used in kimonos as a charm to ward off evil. The dial is designed to look like a tightly tightened obi with the shining one-point Hanabishi pattern.
Purple "Kikyo"(Bellflower) has been regarded as an elegant color since the Heian period.
A design that expresses the elegant spirituality of Kyoto, which respects tradition and spins an eternal culture. Bellflower is used in many samurai family crests, for example crests of Akechi Mitsuhide and Sakamoto Ryoma. It is one of the plants that has been loved in Japan since ancient times, which also appeared in Manyoshu. The cloisonné pattern in the background represents the seven treasures which appear in Buddhist scriptures, which is also a charm for "goodwill and harmonious relationship"wishing people to have better relationships.
Large, elegantly blooming Botan (Tree Peony).
A design which expresses the majectic history and tradition of Kyoto, where high-ranking shrines and temples are gathered. Because of the beauty and splendor of the tree peony's appearance, it became a pattern inspiration for not only Japan but also various parts of Asia. Because of its luxurious beauty with many large petals, it has long been considered as an auspicious pattern and an omen of nobility and wealth.
Shakuyaku (Chinese Peony) has long been popular in Japan as a synonym for beauty.
A design which modestly expresses the unchanging climate and nostalgia of Kyoto, which is the essence of Japanese people. There is also a modest theory that the Chinese peony is considered shy because it closes its flowers in the evening, giving a flower the meaning of "shyness"in flower language. The cloisonné pattern in the background represents the seven treasures that appear in Buddhist scriptures, which is also a charm for "goodwill and harmonious relationship"wishing people to have better relationships.

Chōjū-giga (Animal Caricatures) expresses in this design a scene of joy of the frog and rabbit's from a picture scroll
The Frog and rabbit were selected as motifs from one of the Chōjū-giga. They depict the lovely personified animals and seen as the original manga. Asanoha monyo (stylized hemp leaf pattern) and sayagata monyo (key fret pattern) are also arranged in a cloud motif. It is the same for the watch's belt.
What is the Chōjū-giga? it is a caricature scroll created sometime during the late Heian period to the early Kamakura period. It belonged to Kōzan-ji, in the Ukyō Ward, Kyoto, Japan. It's 44 m long, and has internationally well-known, humorous caricatures.
Maiko model expresses the lovely and gentle Maiko's appearance standing out with an aura.
You can see the attractive red leaves of Kyoto. Tsubaki model is themed around "Autumn in Kyoto" using darari-obi, red leaves, and maiko motifs.

Sakura model is themed around "Spring in Kyoto" using Japanese umbrella, cherry blossoms, and maiko motifs.
The beauty of transitioning seasons is expressed by using vivid colors. These colors are pink, red and vermillion. Pink is for the kanzashi (gorgeous hair ornaments). Red is for the darari-obi (dangling obi). Vermillion is for the Japanese umbrella which is part of Maiko's charms.
Memories are more than just landscapes. They are the air and the scents from places you've been. This is the birth of a product which exhibits the technology and spirit of Japanese craftsmanship and fragrances of Japan both domestically and internationally.
Usually, most of watches around this price range are produced overseas and are of unreliable quality. Our company has pursued quality in creating the "KAORU" series, producing the watch domestically in order to create "a special product which can represent Japan".
Unique Silicon Straps
The scents emitted by "KAORU" are generated by silicon straps which have undergone a unique process. These watches are 100% made in Japan and are a collaboration between a Japanese flavoring company, a rubber company, and a watch manufacturer.The silicon strap has a supple quality, wrapping in a way that epitomizes a Japanese sense of subtleness. *The surface of silicon strap adopts the special pattern of hemp leaf.
Special Specification of JAPAN MADE
KAORU is made to JAPAN MADE specifications, established by Japanese manufacturers and the watch manufacturer working in collaboration.
Elastic Texture
The elastic texture of the silicon strap has a supple quality, wrapping in a way that epitomizes a Japanese sense of subtleness.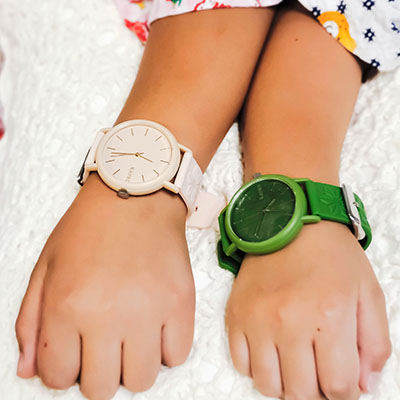 The Pursuit of Comfort
Soft silicon that fits to wrist. Hypoallergenic materials allow you to wear KAORU comfortably.
One Size Fits All
"I don't know their wrist size, but I want to give them this as a gift!" You don't need to worry about size when giving KAORU as a present.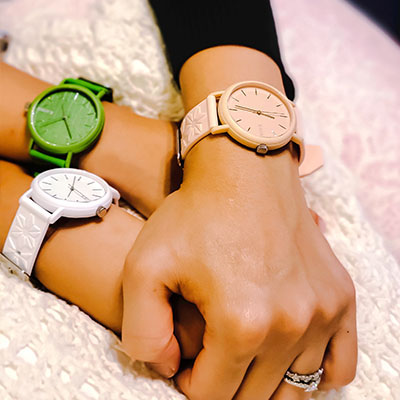 Seiko Epson quartz movement installed.
KAORU adopts "Seiko Epson Made" three hand quartz movement internationally recognized for its reliable quality and precision. The Japan Made movement alters from vibrations that is crystal oscillated 32,768 times per second into the movements of second hand, and its precision is within lunar equation ± 20 seconds.
SPEC
Brand
KAORU
Color
Nadeshiko KAORU009KS / Kikyo (Bellflower) KAORU009KH / Blooming Botan (Tree Peony) KAORU009KT / Shakuyaku (Chinese Peony) KAORU009KY / Chōjū-giga KAORU002CS / Maiko RED KAORU002MT / Maiko PINK KAORU002MS
Case material
Polucarbonate
Case size
Height38 x Width38mm / Thickness8.5mm
Strap material
Silicone
Strap size
Width18mm / Circumference 12.5-21cm
Weight
28g
Waterproof
Water resistant
Movement
Japan Made
Assembled
Japan
Case cover
Plactic
Warranty
Half year
More Choices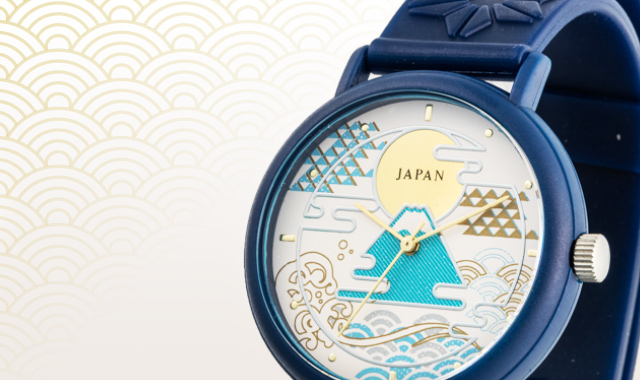 All six types of JAPAN series consist of Japan's representative Mt.Fuji, talisman Maneki-neko and Daruma, the samurai warriors Oda Nobunaga and Sanada Yukimura designed as motifs.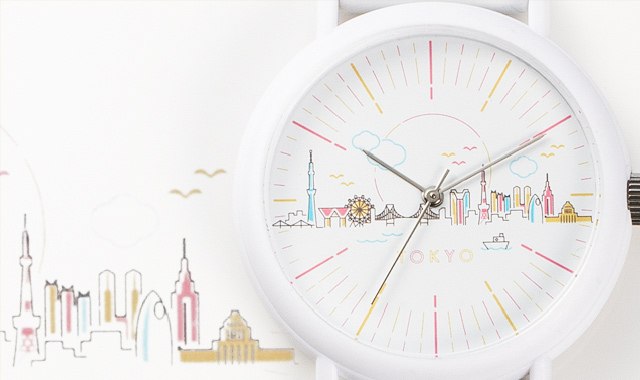 All four types of TOKYO series expressed powerfully the glittering day and night, the world's ticking Tokyo streets and Japan's representative sport Sumo wrestling.
All two types of OSAKA series consist of friendly Osaka dialect design and illustration of local food.
Each watch chooses a story of Japanese Virtue
Japanese Patterns of package portray Japanese traditions and sporits.
The packageing is cute like bag of candy and makes for an ideal present.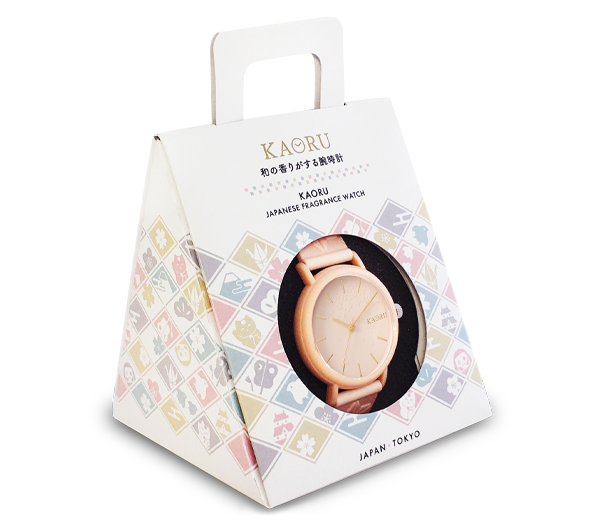 The logos of "KAORU" and "Made in Japan" are engraved in the back of the watches case as an assurance of quality.